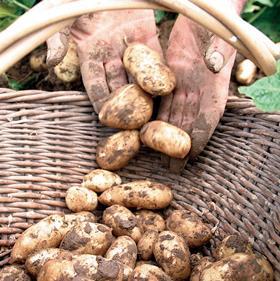 The king of new potatoes will be given the royal treatment by one of the nation's favourite celebrity chefs this year as part of an exciting new marketing campaign.
Jamie Oliver is launching a bespoke Jersey Royal cooking course at his London cookery school in May to mark the 2022 season and celebrate the famous potato brand, which is only available on UK shelves between March and July.
Open to the public, Jamie Oliver's Jersey Royal cookery classes will be taught by one of his school's head teachers, and participants will learn how to cook Jersey Royals three ways.
This novel new partnership with the Jamie Oliver Cookery School is part of a Jersey-wide promotional campaign to further raise the profile of the brand on the UK mainland, reveals Nigel Holliday from the Jersey Royal Company, which supplies around 65 per cent of the island's exports.
Other marketing activities will include physical events, a social media drive across various digital platforms, as well as collaborating with chefs around the country to maximise coverage in publications too.
Working with a popular and well-respected culinary figure like Jamie Oliver is a particularly powerful way to improve brand awareness and customer appreciation of the product's qualities, according to Holliday.
"The opportunity to be part of the Jamie Oliver cookery school is a fantastic one for Jersey Royals," he tells FPJ. "It will allow media coverage to a much wider target audience, help raise the product profile, and being associated with a school that uses high quality ingredients and produces delicious dishes, is great for the Jersey Royal brand."