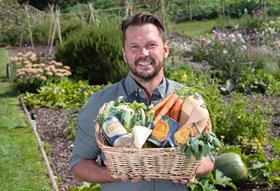 TV presenter and farmer Jimmy Doherty is partnering with Crosse & Blackwell to launch a new soup range featuring locally sourced produce.
The partnership comes after research by the brand showed that 65 per cent of the population would rather buy British if given the choice, with 77 per cent stating it's important for companies to support UK suppliers.
"The UK has so much fantastic, home-grown produce available," said Doherty, the frontman for Food Unwrapped and Friday Night Feast. "It's important for British brands to recognise this and support local suppliers."
The new flavours, more details of which will be released shortly, are said to have been influenced by "a combination of current consumer trends, mixed with traditional British favourites".
The new lines will supplement a range that already includes Chicken & Multigrain, Broccoli & Stilton, Winter Vegetable and Green Vegetable & Kale.