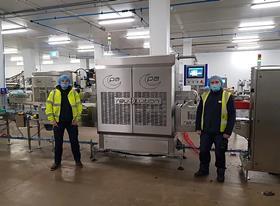 British cherry and stonefruit supplier J.O. Sims has modernised its factory and invested in higher speed lines to keep pace with rapid growth in the business.
Needing to maximise its grading and linear weighing machines to boost packhouse capacity and efficiency, the Spalding-based company turned toPackaging AutomationLtd, which manufactures tray-sealing, pot-filling and factory-efficient weighing machines.
The machinery specialist, which has supplied J.O. Sims for more than four years, installed a Revolution heat sealer to match existing equipment as well as upgrading all the older on-site machinery to the new specification. This included soft seal and auto tension to deskill the operating process and let the machinery deliver maximum results.
The constantly fed Revolution machine means J.O. Sims can now achieve steady, consistent speeds, rather than relying on stop-start feeding.
According to Packaging Automation, the efficiency of each of the supplier's machines has improved by around 30 per cent, reducing their cost per unit.
J.O. Sims said: "We chose PA as their service is exceptional… The sales engineer cares and his after-sales support is second to none. The spares department always have what I need and deliver with efficiency.
"The service and install team in the field are all great people and they have a good depth of knowledge, skills, and experience."