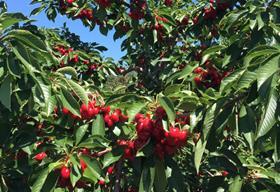 UK cherry and stonefruit supplier J.O. Sims has taken over the management of its first UK cherry farm, Broomfields of Holt in Worcesershire.
The farm, in Cutnall Green, is widely recognised as a high-quality grower of both sweet red and blushed cherry varieties.
Spalding-based fruit company J.O. Sims is experienced in cherry farming, having a controlling interest in farms across the globe.
The agreement marks an expansion to the Sims' UK cherry ventures, as they look to achieve their goal of 52-week availability of fresh cherries.
The business, formed in 1896, already has cherry farms in Chile, Spain, the US, Canada and South Africa, focusing on early and late growing regions to extend seasons beyond their traditional boundaries.
J.O. Sims managing director, Christopher Sims, commented: "We are delighted to complete this deal. Over the last few years, we have looked to extend control over our global supply chain, extending availability and reducing costs. However, we recognise that the UK season is becoming an increasingly important part of the cherry supply calendar, as consumers take a more active interest in local sourcing, reducing food miles and their carbon footprint."
He added: "This deal allows us to bring all the knowledge we have learnt in growing over the last 30 years and apply it to a UK setting, improving yields and quality. We can't wait to get onto the farm and deliver our customers some fantastic English cherries this summer."