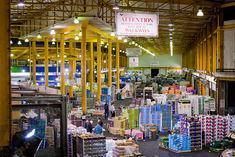 Birmingham Council has been urged to reconsider its plans to force the city's wholesalers to move as new figures suggest up to 15,000 jobs depend on the markets.
Traders have been told by council officials that they will have to leave their city centre location in 2013.
They argue that the council made assurances that it was committed to building a new market at Witton, but has since made it clear that they will have to find a new site themselves, without the financial backing that was promised originally.
New figures from Forrest Research suggest that far more people are likely to be affected by the move than first thought.
Paul Forrest, director at the company, said: "The council said 500 jobs depend on the markets but we think it's more like 11,000 directly, and when including the lorry drivers and other jobs that rely on them it's closer to 13,000 to 15,000.
"Restaurants are dependent on wholesalers and if they went, their costs would rise dramatically," he added. "The council will probably shoot down the figures but it may say 6,000-11,000 are dependent."
The figures are being submitted to the council this week, to be discussed at a cabinet meeting in January 2012.