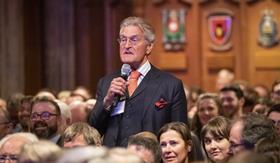 Jonathan Choat, the founder and chairman of Nexus PR and Integrated Communications, has passed away following an accident at the age of 79.
Choat, a Fruiterer, founded Nexus in the 1970s and led the business for four decades before handing over the day-to-day running to his grandson Harvey in recent years.
Nexus formed the Fresh Fruit & Vegetable Information Bureau, which was seen as a key conduit for information in the 1990s and early 2000s and was among the first to organise industry-wide campaigns.
As well as his work in public relations, Choat was active in the theatrical world, writing or producing stage productions including Vampirette the Musical and Eugenie Grandet.
A Nexus statement said: "It is with deep sadness that we inform you that our founder and chairman, Jonathan Choat, passed away peacefully early on Sunday 24 November after a tragic accident.
"Jonathan was a driven, charismatic and passionate leader and a consummate PR professional who was instrumental in running some of the biggest food accounts in the UK from industries to brands. His energy was relentless, and his enthusiasm undimmed. It will be a greyer world without him in it."
'A legend in his own lifetime'
Tributes from across the PR and food industries have poured in for Choat. Fruiterer Dick Brighten paid tribute to Choat's presentations in the early years at fruit trade conferences and other gatherings, recalling that his stage entrance on occasion was heralded by loud music and flashing lights. He, along with Jane Beechy, devised the idea of 'Demi-veg', a dietary regime that would sit comfortably into today's philosophies and recommendations on eating habits, Brighten added, pointing out that Choat was also instrumental in his FFVIB days of achieving a weekly slot on the Jimmy Young Show, promoting fresh produce.
'Jonathan was a 'one-off' - the mould having been broken at birth,' Brighten continued. 'Intelligent, friendly, loyal, wickedly humorous, a great orator, passionate for the cause of fresh produce, successful, a PR guru and once met never forgotten. His stature, more cavalry officer than business executive, with the sartorial elegance of his trademark double-breasted suit and flamboyant breast pocket handkerchief - he was a legend in his own lifetime.'
Richard Medley, managing director at Wild Card PR, wrote on Nexus's LinkedIn page: "There was only one JC. Jonathan was consistently passionate, ambitious, interested in being exposed to new things and determined to maintain the highest of standards. Not many have had half his energy even when many years younger. Or have matched his dapper dedication to English suits and walking at a pace that put everyone else to shame. Unique."
Fresh produce industry veteran Giles Shapley, who has worked for companies including Dole Fresh UK, Safeway and Geest, said: "Jonathan was a great personal friend of my father [former FPJ editor David Shapley]. I met him a few times in my early career but his enthusiasm, larger than life personality and charm left a lasting impression."
And Mark Knight, director at Four Corporate & Financial, said: "He was a PR legend and a true gentleman. He was such fun to be with and had a wicked sense of humour. I felt privileged to know him."