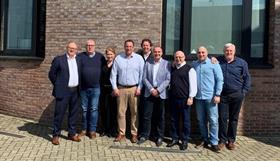 Shropshire-based grower and breeder Jupiter Group has continued its rapid global expansion by acquiring Dutch fresh produce marketer Cool Fresh International.
The purchase, which includes Cool Fresh International's logistics division Saphir and the Valencia-based commercial operation Agro Marketing Cool Fresh España, follows Jupiter's November 2018 acquisition of South African citrus producer Bonaire.
Jupiter Group's chief executive and group director Mark Tweddle said: "We are extremely excited about bringing the team and expertise of Cool Fresh International into the Jupiter family.
"Our own grape and citrus production in countries such as South Africa, Greece, Chile and Argentina create great synergies with Cool Fresh International's client base across 54 countries, meaning we can further explore the broad retail base across the UK, Europe, Asia and Africa.
"We are fully geared to offer the added value this acquisition brings to the benefit of our retail, food service and wholesale clients all over the world. By 2021 we estimate the delivery of more than eight million cartons into our supply chain."
Cool Fresh International, which has a long history in global fresh produce sourcing and marketing, employs 43 people in its three locations.

In addition, the company owns various fresh produce brands in its various product categories, including BonSweet for pineapples; BonJus for summer fruit, grapes and citrus from Spain; and BonChi for garlic from China.
The Dutch company has also implemented various sports-based and educational community projects in a number of countries, which Jupiter's director Yvonne Tweddle says fit well with Jupiter's own focus on CSR.
"Not only is there commercial synergy with Cool Fresh, we are also very much aligned in terms of corporate social investment.The Nancy Tweddle Foundationmirrors the core values of theStars in their Eyes Foundation, which was set up by Cool Fresh in 2006. Our aim is to follow our hearts in making the world a better place, something which the Tweddle family holds very dear.'
Jupiter has offices in six countries, with a total of 150 employees. The company was recently placed in the Top 25 of the Sunday TimesInternational Track 200 list for the second consecutive year, and has enjoyed average annual sales growth of 107 per cent over the last two years.

The firm recently started harvesting the first of its new table grape varieties planted in South Africa, India, South America and Greece.