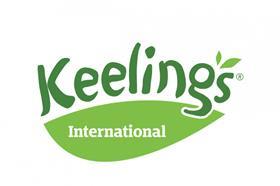 UK fresh produce supplier Keelings International is this year's FPJ Big 50 Companies highest riser, shooting up 11 places in the publication's hotly anticipated 2020 rankings.
Posting a turnover of £125m for the year to November 2020, up from £91m in 2019, the Northamptonshire-headquartered business climbed from 43rd to 32nd position in the FPJ's annual league table of the UK's top 50 produce firms.

FPJ subscribers will soon find out where other companies have placed when the special issue is published next week.
In its 2019 FPJ Big 50 Companies entry, Keelings International – which produces and sources a wide range of produce from tropical fruit to salads – had predicted turnover growth in 2020 thanks to expanded UK glasshouse tomato production, expansion to its melon farms in Brazil and Costa Rica, and "significant farming acquisitions".
And, in spite of the unforeseen challenges Covid-19 presented, this forecast, and several additional achievements, were realised, Steven Fagg, Keelings CEO, told FPJ.
"Last year we stated that we were expanding our UK tomato supply, and this went well," he said. "A premium tomato was grown especially for one of our customers and this helped them grow their premium tomato sales by appealing to their key shopper segments.
"We added another farm to our portfolio," he continued. "Las Brisas in Costa Rica became part of Keelings in January and we now have our own year-round supply of pineapples."
Meanwhile, sustainability has remained at the forefront of Keelings' operations, Fagg said, and the firm has continued to invest in new machinery that can pack plastic-free packaging. The firm launched a plastic-free liner-less pack this autumn, and plans to roll this format out into other product areas, he revealed.
"2020 has been a rollercoaster," Fagg told FPJ. "Covid-19 has had the biggest influence on our business in 2020. Our convenience and on-line customers experienced unprecedented demand in the spring, throughout the remainder of the year sales remained strong and up versus 2019.

"However, this benefit has been reduced with the increase cost of managing our sites and offices to be Covid safe and procuring additional product to supply the unforeseen demand.'

He added: "It is the unknown that has characterised this year, and the coming months don't look any different with the uncertainty of Brexit on the horizon combined with economic consequences of Covid-19. However, we are fortunate to be in this sector and are expecting good growth during 2021."
The FPJ Big 50 Companies ranks the largest UK-based suppliers of fruit and vegetables using figures from filings to Companies House, via the annual reports of public listed companies, or from the FCA Mutuals Public Register. Where businesses have offered a significantly different turnover to the ones listed, this has been explained in the commentary.
One-off copies of the FPJ Big 50 Companies – as well as the FPJ Big 50 Products – are available for £25 each. Contact us at subscriptions@fruitnet.com to order your copy.