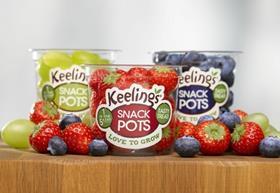 Keelings Fruit, whose on-the-go fresh fruit portions have proven a hit with consumers, is in the running for a 2016 Irish Food Award.
The berry producer has gained a lot of attention for its snack pots, which were launched in 2013 after the company said it had identified a distinct gap in the market.
'Prior to its launch, consumers told us that they wanted to achieve their '5 A DAY' but were sometimes confused by this message, and needed convenient solutions," said Keelings' Sinead Breen. "We hope that Snack Pots make eating healthily a little more achievable for our consumers.'
Having started with strawberries, the snack pot range now includes blueberries, baby strawberries, mixed berries and grapes, as well as seasonal lines such as Santini Tomatoes and Cherries. They are available in both single pots and as a multipack, which was recently launched.
'We find that Snack Pots appeal to two types of consumers," said Breen. "The first is the consumer who is looking for convenience and healthy snacking on the go, and the other is the mums and dads, who chose them for children's lunch boxes. Kids seem to love the concept of individual snacking pots,' she added.
Keelings, who grow their strawberries under glass, have been able to extend the Irish growing season from March to November. Breen admitted that rain will always make things a little more difficult, but believes Ireland has an ideal climate for growing strawberries.
'We will use Irish baby strawberries from our farm whenever they are available," she said. "Beyond that, we will source from wherever the best quality is available at that moment, depending on the time of year and where the best quality is coming from.'
The Irish Food Awards are judged by a blind taste test and research has shown that Irish consumers prefer to buy products with the awards accreditation and logo on their packs.
Winners will be announced in Dingle on Ireland's south west coast on Saturday 1 October.