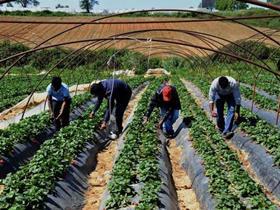 Forget Brexit – that's last year's, or perhaps next year's, problem. Right now the most pressing issue on most growers' minds is labour, whether that be how to recruit staff in the first place or managing the increasing cost once they get there.
National Living Wage rises are causing a mighty headache in the production horticulture sector, while as staff prove ever more difficult to come by, the industry is looking to government to offer assurances that seasonal labour will be available in the coming years.
As it stands, those assurances are not coming through loud and clear, and indeed conflicting messages continue to ring out from ministers. Consider the comments of immigration minister Robert Goodwill, who in January said the government was positively inclined towards proposals for a new Seasonal Agricultural Workers Scheme (SAWS) and appeared to understand that it wouldn't contribute to net migration; but who then last week was quoted by Farmers Weekly saying suggestions of worker shortages were not backed by statistics: "At the moment, we do not believe there is a need for a scheme," he said.
Regardless of whether you feel a dedicated SAWS-style scheme is necessary or not, some clarity and joined-up thinking most definitely is. Ministers are making contradictory and sometimes woolly comments, going off script and getting rebuked by Number 10 or, in the case of Defra secretary of state Andrea Leadsom, saying very little most of the time. But the issue is complex – it spans multiple government departments and, as NFU chief horticulture adviser Hayley Campbell-Gibbons pointed out at the union's recent conference, it's about politics more than actual reality.
"It's important as a lobbyist to understand where the reservations are in government," she said. "The barrier is on the political side. Personally I don't think we'll see any movement on a seasonal labour scheme until we see the arrangements between the UK and EU on EU nationals' status have been secured." Given the Lords and Commons have struggled to agree even on that, a resolution seems some way off.
So how bad is the situation for growers on the ground? According to John Hardman, director at recruiter Hops, the industry should be just about okay for this season, though there are concerns of a repeat of the 400-worker shortage seen in the soft-fruit sector last year.
More of a danger is the long-term picture. The NFU is highlighting 2019 as a particular pinch point – the moment Britain finally withdraws from the EU and the industry is potentially left without access to the Bulgarian and Romanian workers upon whom growers have had to rely since the ending of the last SAWS scheme three years ago.
Pressure starting to build
For growers, the diminishing EU labour pool is combining with cost pressure from the National Living Wage to make staffing a real headache. At last week's Worshipful Company of Fruiterers conference, John Shropshire, chairman of one of this country's largest users of seasonal labour, G's, spelled out the real possibility that growers might take the nuclear option of moving production overseas if things don't improve. It doesn't get much more ironic than if as a consequence of Britain's decision to withdraw from the European Community, we should end up importing from British growers based in, say, Poland.
Outlining the economic contribution made by G's 2,500 seasonal staff, Shropshire said they paid a combined £4.6 million in tax in 2016, as well as spending some £10m in the local area.
Pouring cold water on suggestions that migrant workers were a drain on the nation's resources, he pointed out that only eight of those staff claimed family tax credits last year, and none collected working tax credits. Among the 2,500 staff there were only 374 visits to A&E, with just one overnight stay – for an appendix operation. Extrapolating the figures across the industry, Shropshire estimated that seasonal workers contributed over £100m to the UK taxman. It's political then, not based on empirical logic.
Possible solutions to address the labour shortage and mitigate NLW increases have been mooted, including more local recruitment, an increase in automation, cutting costs by reducing food waste and moving production overseas.
However, Shropshire said the first option was a non-starter as there are only 250 unemployed people in Ely, and while innovation is ongoing, robots are not the immediate answer. G's is already packing, flow-wrapping and printing in the field, but harvesting many crops by machine is still unfeasible.
Shropshire conceded the industry needs to make itself more attractive to workers by improving accommodation standards, and also said the wasteful practice of 'overgrowing' by 30 per cent to ensure customers are never let down may have to change to better match production with demand.
He also raised the possibility of moving production of certain crops overseas, citing the example of spring onions, a crop in which 65 per cent of the production cost is labour. "There are a vast number of people desperate for work in Senegal," he said. "We have run a project to grow spring onions through the winter. We could move production to Senegal [if that's what the government wants]."
Similarly in Poland, a scheme allows the company to meet its labour needs with Ukrainian students, making production in that country more attractive to growers.
A suite of solutions
So what is being done to make the industry's case? Trade bodies have certainly not taken the situation lying down, and have been making frequent and concerted representations to government to stress the importance of a framework that allows growers to source the labour they need. Led by the NFU and British Summer Fruits, with support from other trade bodies including the Fresh Produce Consortium, British Growers and others, civil servants have been left in no doubt as to the seriousness of the situation, and excellent work continues to be done behind the scenes to stress that the government must make labour sourcing a priority.
While there are still calls in some quarters for a new incarnation of a SAWS scheme, there is a growing view that a more broad-spectrum approach may be sufficient. More than anything else, the industry wants a firm commitment from government that it will have sufficient labour to meet its needs – and that means no more contradictory statements from ministers, as well as a realistic acknowledgement that Brits are not going to fill the void left by existing migrant labour.
With Britain's divorce from the EU set to be put in writing next week, there should be swift movement in terms of securing the future of EU workers already in the UK. It has also been suggested that the government could take any one of a number of 'off the shelf' labour schemes to provide short-term relief during periods of tight supply, and these could provide a solution as part of a toolbox of options to ensure no interruption to farming activities.
One thing is for sure – following a year of non-committal, the time is now for the government to secure the nation's food supply and support this most crucial of industries. If not, those ambitious food self-sufficiency targets we see in Defra reports will remain nothing more than empty words on a page.
Chris Chinn on the labour challenge
Chris Chinn, of Cobrey Farms, addressed an Environment,Food and Rural AffairsCommittee meetingon 8 February.
"We employ up to 1,000 seasonal workers in April to June to harvest the asparagus crop. We simply wouldn't have been able to grow the business in the same way without [migrant] labour. We recruit directly through a website application form and recruitment events in Romania and Bulgaria. What we are finding post-referendum is a huge amount of uncertainty in that labour source. Uncertainty about what happens after the referendum, what happens after the vote and the Brexit event. These guys are not political experts and are fearful. We are in a competitive market – we are competing with Germany, the Netherlands, Scandinavia. There is a limited labour source for agricultural activities in the EU. Roughly speaking we are having to speak to eight people to secure one staff member, compared to three last year. So it's having a very obvious and dramatic impact. It is getting noticeably harder. National Living Wage is also having an impact, and it amazes me we aren't talking about that more."
Improving the accommodation standard
In the wake of the damaging Channel 4 investigation into working conditions on Mansfield's Nickle Farm – much of which the companies involved claimed was misleading – a new accommodation standard is now out for consultation which could help improve the image of horticultural working conditions in this country.
On a related note, the Gangmasters Licensing Authority is understood to be developing new standards including prohibiting charging workers recruitment fees. That is likely to have a knock-on effect for growers in terms of transport costs for seasonal workers needing to be factored in as a recruitment cost.