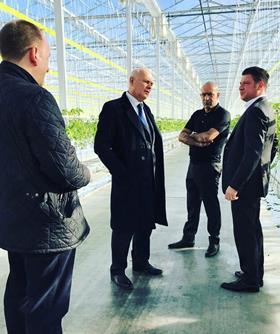 Conservative MP and former work and pensions minister Iain Duncan Smith has visited Lea Valley growers to hear first-hand about concerns around labour availability.
The visit was arranged by the Lea Valley Growers Association after it was reported Duncan Smith backed a pro-Brexit lobby group's call to "scrap unskilled migration from the EU".
At a meeting with various Lea Valley growers in Nazeing, Duncan Smith met LVGA chairman Joe Colletti, director Sam Cannatella and technical manager Matthew Simon.
During the visit, the association said it was keen to demonstrate that a glasshouse technician is a skilled role and would require appropriate labour in future.
Productive discussions took place regarding the availability of labour from commonwealth countries post Brexit on a work permit basis, the group said.