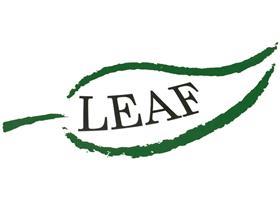 LEAF Education has launched its 2022 National Food, Farming and Natural Environment competitionwith an environmental focus.
Under the theme 'Farming is about working with the natural environment', the competition engages secondary school students with farming, food production and the natural environment, with a chance to win on-farm experiences.
Organised in partnership with Coleg Cambria Llysfasi and Bayer, and now in its fourth year, the competition aims to open young peoples' eyes to the highly skilled and technologically advanced agri-careers available within our sector.
Since the competition first launched in 2018, more than a third of the high-achieving students who have taken part have gone on to study at land-based colleges.LEAF added that all students involved have reported that taking part in the competition 'positively changed their perception of the farming industry'.
Carl Edwards, LEAF's director of education and public engagement, said: "Last year we saw huge growth in the number of entries to the competition and during the process it was wonderful to see a real change in students' understanding of food production.
"Gen Z are becoming more engaged, conscientious ambassadors of their role in creating a more sustainable planet and it's really exciting to capture this enthusiasm, while demonstrating and showcasing the range of future career opportunities available within the agricultural sector."
Entries are now open to secondary schools (years 9-11) across England and Wales, with teachersinvited to submit an applicationexplaining why they feel their school deserves a place in the competition.
The competition will see entrants whittled down to ten semi-finalist schools who will enjoy on-farm visits, followed by a final activity filled weekend for the top six schools, at Coleg Cambria Llysfasi in North Wales.
Students will take part in a wide range of hands-on farm activities with the weekend culminating in a debate around a farming related hypothesis on the important role soil has in sustainable food production. The winning school will be crowned winner of the 'National Competition in Food, Farming and Natural Environment 2022'.
Mark Buckingham, Bayer's corporate engagement leader for the UK and Ireland, said: "This competition gives students a real-world opportunity to discover an in-depth knowledge of our countryside and food producers working in it, the issues and what roles and opportunities are available for them to influence the future of food and farming. We're delighted to be supporting them in this discovery."
Entries open on18 March 2022and close on8 April, with judging taking place on27 April. The semi-final farm visits will take place at a convenient time to suit the school, including a travel bursary (where necessary) betweenMay and July. The finals weekend will take place on21-23 October.
Clickherefor more competition information and to enter the competition.