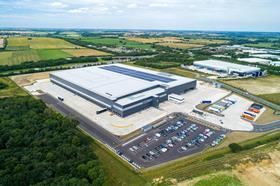 Lidl's new £70m regional distribution centre in Peterborough will open this weekend, employing 400 people and providing a new major hub of fresh produce.
At 45,000 sq metres, the centre is the size of eight football pitches, and will form a key part of Lidl's £1.34bn investment plan into the UK in 2019 and 2020.
The discounter praised staff efforts in opening the warehouse on schedule while in the midst of the global coronavirus pandemic.
The business affirmed its wider warehouse expansion plans are also continuing, with new distribution centres planned for Luton and Bolton, along with the expansion of its existing warehouses in Belvedere and Bridgend.
The opening at Peterborough follows confirmation of plans to open 100 new stores across Great Britain throughout 2021 and 2022, and marks the latest in Lidl's rapid expansion plan, as the discounter continues to invest in its GB infrastructure.
Lidl GB chief operations officer Matthew Heslop said: "As a supermarket it has been our priority over the past months to ensure that the communities we serve continue to have access to much needed food supplies and essentials.
"This is very much still our focus, and with the addition of our new Peterborough distribution centre, we are further strengthening our logistics and operations to ensure that we can continue to serve as many customers as possible with quality food at Lidl prices."
Stephen Hutchinson, Lidl regional director for Peterborough added: "I am immensely proud of all of our colleagues that have worked tirelessly to ensure this warehouse can open on time.
"Keeping on track with the build, and the preparations to go operational under these exceptional circumstances, has only been possible because of their hard work and we are incredibly grateful to everyone that has been involved."
Strategically located next to the A1(M), the warehouse will initially serve 48 stores and will use a natural refrigerant system, which heats and cools the entire building, along with solar panels that will generate 10 per cent of the total electricity required by the building.
Lidl stated the facility had plans to recruit a further 50 staff this year.