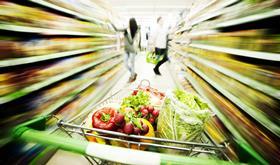 Retail grocery sales have continued to accelerate as locked-down shoppers had little choice but to eat at home.
New figures from Kantar show take-home grocery sales rose by 12.5 per cent during the 12 weeks to 21 February. Sales were even stronger over the past month, increasing by 15.1 per cent, the fastest rate of growth since June 2020 as the latest national restrictions curtailed spending in cafés, restaurants and pubs.
"The pandemic has now been making its mark on our lives and completely changing the way we shop for a full year,' pointed out Fraser McKevitt, head of retail and consumer insight at Kantar.'Various hospitality restrictions mean that we've eaten an extra seven billion meals at home since spring 2020. Overall, shoppers have spent £15.2 billion more on groceries during the pandemic – that's around £4,800 per household on average, an increase of £500 compared with normal times.'
In the latest month, online grocery sales reached a new record share in the four weeks to 21 February, accounting for 15.4 per cent of sales, up from 8.7 per cent last year. Nearly a quarter of households bought groceries online during the past month.
That trend has again boosted Ocado, which saw sales rise by 35.3 per cent in the last three months, with its market share rising 0.3 percentage points to 1.7 per cent. Interestingly, it is increasing in popularity outside of its London heartland and is experiencing the greatest sales growth in the south and midlands of England.
Tesco gaining share again
Tesco had a strong month and grew its market share by 0.2 percentage points to 27.4 per cent, marking the retailer's first market share gain since December 2016 as its sales rose by 13.2 per cent. Kantar said its success was felt across the business with online sales, larger supermarkets and smaller convenience outlets all contributing to its strong performance.
Iceland's market share increased by 0.3 percentage points to 2.5 per cent and its sales rose by 23.9 per cent. The size of the average Iceland basket grew by more than half to £19.93 compared with the same time last year, the fastest rate of increase among all the retailers. Iceland's fresh and chilled aisles put in a standout performance, supporting the core frozen food lines that make up 39 per cent of its total sales.
Morrisons also won market share, taking an extra 0.1 percentage points to reach 10.3 per cent of the market, with sales up by 13.9 per cent. Sainsbury's increased sales by 12.1 per cent to hold its market share of 15.6 per cent. Returning to double-digit growth, Asda sales were 10.3 per cent higher compared with a year ago while convenience retailer Co-op grew sales by 12.6 per cent to maintain a 6.0 per cent share of the market. Waitrose sales rose by 11.5 per cent while Lidl's and Aldi's were up by 10.9 and 5.6 per cent respectively.
Post-lockdown shopping trends
Attention now turns to how shopping behaviour changes as restrictions are lifted. "In terms of the grocery market itself, we'll start to see year-on-year decline following the anniversary of the first national lockdown next month,' McKevitt said. 'Sales will be measured against last year's record spending and comparisons will be tough against the heights of 2020. Demand for groceries is also likely to subside as the hospitality sector re-opens. The more typical sales patterns of 2019 will come to the fore as the most important metric to gauge retailer performance as we emerge from lockdown over the coming months."