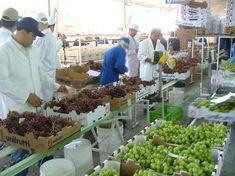 Egyptian grape grower Belco is producing Arra11 for supply to UK importer Mack for the first time this year.
The fruit comes from the Arra breeding project in California and has unprecedentedly high sugar levels for an early season white seedless grape. It also has a crispy, crunchy texture and typically larger berry size.
Sherif and Mohsen El-Beltagy, who own Belco, have been growing in Egypt for 30 years and are the country's largest producers of grapes. They have some 400 acres of Early Sweet and are usually the earliest to market in the UK. Belco has also planted commercial volumes of four other red, white and black Arra varieties.
Mack commercial director Dan Crooks said: "We've had a long relationship with Belco as a grower for Mack, with their fruit consistently offering the best quality from Egypt every season. Their enthusiasm for innovation and readiness to invest in new varieties is paying dividends to help keep both Belco and Mack at the forefront of grape-breeding developments."