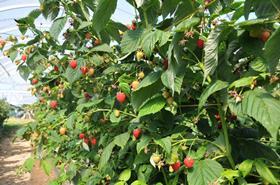 Malling Fruits, the marketing brand for fruit varieties bred at NIAB EMR in Kent, saw record sales of its world-leading fruit varieties in 2021, with over 94 million plants sold.

Sales of strawberry plants headed the tally with the industry-leading June-bearer Malling Centenary reaching over 68 million plants alone. Raspberry variety Malling Bella saw sales grow by over 50 per cent on the previous year's plantings.

"It is clear that Malling Fruits varieties are raising varietal benchmarks and becoming ever more popular amongst fruit growers, marketing desks and retailers," commented Will Roberts, Business Development Manager at NIAB EMR. "The quality and yield performance of these varieties is being recognised internationally and we have wide-ranging and high expectations for the future uptake across Europe and beyond."

In 2021, Malling Fruits launched Malling Ace and Mallin Vitality, an ever-bearer and a June-bearer, with both varieties expecting to become industry standards in the next five years when plant propagation can meet the current demand. Sales of Malling™ Ace are already being taken up to 2025, with growers being urged to contact their propagators earlier to ensure future supplies.

Sales of plants under the Malling Fruits brand is expected to top 100 million plants in 2022 with strong growth in both the strawberry and raspberry varieties.

NIAB EMR has breeding programmes covering strawberries, raspberries, blackberries, cherries, apples, and fruit tree root stocks, with a long pipeline of potential varieties in trial in several northern hemisphere countries.

Malling Fruits works with industry consortia across the world to breed, develop and commercialise soft fruit varieties, including the phenomenally successful strawberry Malling Centenary and raspberries Malling Bella and Malling Charm.

Malling Fruits is part of NIAB EMR, based in East Malling in Kent, UK. Strawberry breeding first began at East Malling in 1983 for commercial and amateur markets and we have since launched 45 varieties of soft fruit with sales exceeding 400 million plants. Using a combination of traditional techniques and genomics-assisted breeding NIAB EMR supports the efficient development of disease resistant, high quality varieties ensuring improved yield, fruit size and quality, lower fruit wastage, easier picking and season extension.