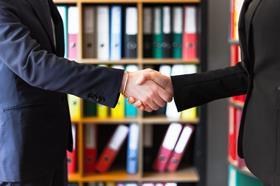 Merger and acquisition activity in the food and beverage sector remained robust in 2019, recording a slight increase in deal volumes compared to the previous year, according to new figures from financial adviser Grant Thornton.
The firm's latest 'Food and beverage insights'report found that 2019 concluded with 49 transactions in the final quarter, a slight fall on the 53 deals in Q3. The addition of 49 deals brought the total tally for 2019 to 215, compared to 213 (2018) and 217 (2017).
With a total disclosed deal value of £8.8 billion, 2019 trailed significantly behind the boom year of 2017, which recorded £21.7bn in deal value. Despite this, Q4 recorded the highest total disclosed deal value for the year: £3.8bn across 13 deals.
This total was inflated by a mega-deal in the last quarter, which saw Froneri agree to acquire Nestlé US' ice cream business, the sole mega-deal of 2019. Removing this deal from the analysis results in a total disclosed deal value of just £792 million for Q4 - the lowest disclosed deal value of any quarter in 2019 and one of the lowest for the past few years.
Increase in distressed M&As
Mega-deal activity continues to be impacted by the fragile macro-economic environment, Grant Thornton said, and recent years have recorded a heightened level of distressed M&A. According to the analysis, there were 14 deals in 2019 where companies were acquired out of administration, with Q4 alone accounting for nine of those transactions.
The last quarter of 2019 recorded a significant fall in cross-border activity and a corresponding boom in domestic deals (71:29). While cross-border activity fluctuated quarter-by-quarter in 2019, the overall ratio of domestic to cross-border activity for the year was 58:42, a similar result to 2018 (56:44).
The analysis also found that private equity (PE) investment was especially strong in Q4 2019, accounting for 14 deals, just north of the previous quarter's tally (13). In 2019 overall, 53 deals involved PE activity – equating to almost a quarter of deals.
Trefor Griffith, head of food and beverage at Grant Thornton UK, said: "Even though the outlook remains cautious, our latest research has found that deal activity in the food and beverage sector remained robust in 2019 – but very much focused on the small-mid market. The year recorded the highest level of private equity investment seen in the sector in the past ten years of our analysis, demonstrating a continued appetite to engage and invest in food and beverage companies.
"Shifting consumer trends continue to drive growth in certain categories, which in turn serve as a catalyst for M&A. The health and wellness agenda shows no sign of abating – from plant-based products through to the "low/no" trend, as well as the demand for innovative, artisan and premium products.
"But the operational environment for food and beverage companies remains immensely challenging. On top of this are the broader macroeconomic headwinds at play, with a slowing global economy, the ongoing uncertainty surrounding Brexit, and now the concern around the potential impact of the coronavirus outbreak.
"Despite the various challenges, M&A remains a key strategy for growth. Large conglomerates should still focus on reviewing, rationalising and refreshing their portfolios. While the long-term disruptive trends and uncertainty are not going anywhere overnight, the drivers for M&A in the food and beverage sector remain strong."