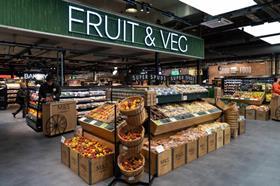 Marks & Spencer recorded its highest-ever food sales this Christmas, up 12.4 per cent compared to pre-Covid levels, the retailer has announced.
Food sales excluding hospitality and franchise increased at a higher rate, up 16.4 per cent compared to the third quarter of 2019/20, while retail parks and Simply Food stores continued to outperform the market.
M&S reported that the larger basket sizes it saw in the first half of the financial year continued through the Christmas period as customers used the retailer for more of their everyday shopping.
As a result, the business generated its highest-ever Christmas sales with December growth in line with the performance for the quarter. This meant M&S was among the fastest-growing food retailers in the period.
In addition, although not included in these numbers, M&S products performed strongly on Ocado.com, accounting for around 30 per cent of baskets in December.
CEO Simon Rowe said he was encouraged that his transformation plan to reshape the M&S management structure and make the business "faster, leaner and more effective" was driving improved performance.
Total UK sales at M&S reached £3 billion in the third quarter, up by 8.9 per cent compared to 2019/20, and by 18.6 per cent compared to 2020/21.
Q3 group sales totalled £3.3bn, 8.6 per cent higher than in 2019/20.
Rowe commented: "Trading over the Christmas period has been strong, demonstrating the continued improvements we've made to product and value.
"Clothing & Home has delivered growth for the second successive quarter, supported by robust online and full price sales growth. Food has maintained its momentum, outperforming the market over both 12 and 24 months.
"The market continues to be impacted by the headwinds and tailwinds that we reported in the first half, but I remain encouraged that our transformation plan is now driving improved performance."
M&S added that it further strengthened its balance sheet and liquidity position during the Christmas period. This included selling two warehouses for a total of £42.5m.
In light of the strong Christmas performance, the retailer said it now expects full-year profit before tax and adjusting items of at least £500m, assuming there are "no further material restrictions or lockdowns".
M&S will report its full-year results for the 52 weeks to 2 April on 25 May 2022.