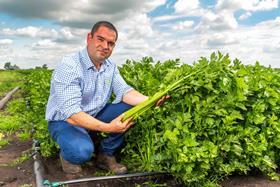 A number of fresh produce businesses have been honoured at the M&S Select Farm Awards at the Royal Welsh Show.
Celery grower Ivaylo Kostadinov was one of the big success stories at the event, having been named as the regional winner of the Innovation Awards for his 15 years of dedication to developing more efficient ways of growing celery.
Kostadinov is celery product director at G's Fresh and is regarded as having played a pivotal role in helping the business grow celery more efficiently and with minimum waste. He has been akey driver in designing targeted plant nutrition plans, as well as advocating research projects, in partnership with PhD students, that will benefit celery production.
Strawberry grower Peter Overvoorde was regional runner up in the Innovation Award category, where he was highly commended for adopting new technology and renewable energy to help improve the performance of his business.
Overvoorde runs East End Nurseries in Keyingham and utilises a mixture of glasshouses and polytunnels to produce over 300 tonnes of strawberries each year. The nursery was initially established to grow tomatoes, but was switched to commercial strawberry production in 2005 and has been providing glasshouse strawberries to M&S for over 10 years, and now uses a number of innovative production techniques.
Meanwhile Peter and Zoe Mee were announced as regional runners up in the Award for Excellence at the M&S Select Farm Awards, during which they were praised for successfully incorporating blueberry production into their existing arable business.
The Mees own and manage Mee Farmers in the Nene Valley, Northamptonshire, and only started growing blueberries four years ago, alongside their existing arable crops. They have now dedicated 15 hectares to growing British blueberries and grow five varieties of the fruit for M&S.
A further G's employee, product innovation manager Emma Watson, was also a regional runner up in the Young Producer category, having got the nod for developing and launching the first UK-grown watermelon radish.The 24-year old has worked for G's for eight years,as part of the trials team throughout the UK, as well as farms in Spain and Senegal. In 2017, she was appointed to lead the G's trial innovation team and is said to have been instrumental in testing and trialling new salad varieties.