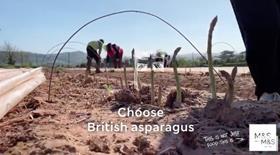 Marks & Spencer has committed to support British farmers during the coronavirus crisis, pledging to expand its range of British-grown fruit and vegetables this year.
The retailer announced it is launching a six-week campaign starting this week across TV, social media and in-store, putting the "fantastic efforts of British farmers" at the forefront for customers and shoppers.
The move has seen M&S take on a more active role in the supply chain, with the supermarket writing a letter to government encouraging it to address wider industry challenges such as the supply of labour in produce, and milk volumes.
M&S said it was also the first retailer to sell 100 per cent British fresh strawberries and asparagus this year during their seasons.
It committed to expanding its range of British produce as the seasons commence across numerous categories, including raspberries, celery, blueberries, cherries, plums, broccoli, cabbage and cauliflower.
Cobrey Farm's Chris Chinn, is one prominent grower appearing in the new promotional campaign urging shoppers to support British growers by choosing British asparagus.
Stuart Machin, managing director of M&S Food, said:"Despite the enormous challenges they are facing, our family of 10,000 British farmers are supporting us to deliver fantastic quality, fresh food for our customers, so we want to do our bit to support them.
"That is why we are standing by our long-standing British sourcing commitments, introducing new initiatives to tackle the problems our agricultural sector faces, and - through our new campaign - reminding customers of the incredible food our nation's farmers produce."
M&S also revealed it was supporting suppliers hit by decreased demand, helping a long-standing tulip supplier, Poplar Farm Nurseries, to launch an online delivery solution to help close the gap in demand.
The retailer also introduced bedding plants into 200 of its Foodhalls and online.