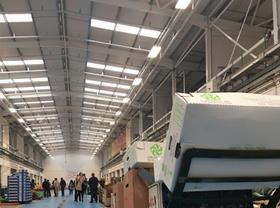 Wholesale markets have reacted quickly to the massive supply chain shock, and the early signs of recovery are promising, with supply chain changes even having long-term potential.
Mark Tate, chairman of Birmingham Wholesale Fresh Produce Association, says the downturn has affected firms in different ways.
"Birmingham Wholesale Market is very slow. Traders are constantly worried about paying rent, service charge and rates. We are doing bits and pieces of business, but it does vary," Tate says.
As in other markets, Tate has taken to providing home deliveries in response, as have his customers. "I think all traders realise what we are doing at the moment is a service to the community, by serving the smaller shops who in turn are starting to do a lot of home deliveries. We ourselves are doing home deliveries to the self-isolating and over-70s in a two-mile radius of our Joe Richards chain of shops.
"It's a win-win situation for the government as it keeps the people off the street and allows them to get fresh healthy fruit and veg. It also takes the strain off the supermarkets.
"It just shows what an integral part of the food chain the wholesale markets are and always have been," Tate concludes.
At Liverpool's new £7 million wholesale market in Gillmoss, Ian Hurst of Hurst Brothers strikes a positive tone, despite the difficulties of losing the catering side. "We're doing quite well actually; our retail customers are very busy which makes us very busy. All the catering has gone very quiet but we have picked up a lot of retail.
"The supermarkets have not been able to cope lately, and the smaller retail has come into its own with grocers and farm shops and things like that. Our catering division is doing delivery boxes and we're serving a few councils," Hurst adds.