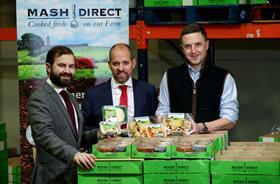 Prepared food business Mash Direct has been fined £2,000 after falling foul of NI Water regulations.
The County Down company pleaded guilty to two charges of breaching discharge consent to NI Water sewers, and were fined £1,000 for both charges, as well as ordered to pay £900 legal costs.
A spokesperson for Mash Direct said the company "sincerely regrets this accidental breach", adding that it had spent in excess of £650,000 to achieve compliance.
Mash Direct has grown in recent years owning to the successful development of prepared products, mostly based on root vegetables, with a portfolio of around 40 products on sale at major retailers.
Angela Halpenny, head of environmental regulation at NI Water said: "This illegal activity by Mash Direct shows a complete disrespect for the sewer network we all share. This has been an extremely long and frustrating case. Despite engagement with Mash Direct over a long period of time, the breach of discharge consent was not resolved, which has led to today's proceedings being taken by NI Water.
"NI Water takes any interference in the performance of its sewer network very seriously and as today shows, if necessary, we will prosecute anyone who does. The irresponsible actions of this company towards our assets and those residents living around the area is not a victimless crime and have been reflected in today's judgment and fine."
Following the fine, a spokesperson for Mash Direct said: 'Any incident that impacts our local sewage system is unacceptable and we sincerely regret this accidental breach.
'We fully investigated the matter at the time and have put corrective measures in place at a cost in excess of £650,000 and NI Water have confirmed that the Company is in full compliance with consent limits.
'Upholding the highest operational and environmental standards is of the greatest importance to us and we continue to monitor all our processing procedures closely.'
In January Mash Direct received £10m funding package from HSBC to make its production facilities more environmentally friendly, by installing new solar and wind energy machinery, along with a wastewater treatment facility.
In March last year it ditched all use of black plastic, removing 240 tonnes from the food system each year.