UK cherry kingpin rewarded for his initiative and innovation in the category at Global Cherry Summit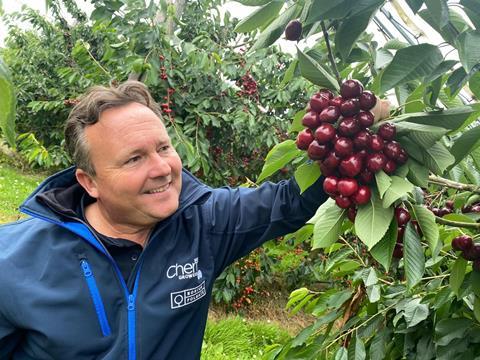 Norton Folgate MD Matt Hancock has been recognised for his innovation and vision in the cherry category with an award at the Global Cherry Summit in Chile.
Gustavo Yentzen, president of Yentzen Group, and Cristián Tagle, president of the Asoex Cherry Committee, presented Hancock with the 'Cherry Visionary Award' over Zoom since he was unable to attend the event in person.
Yentzen explained that it is "an award for those industry leaders in the cherry category who stand apart for their initiative, innovation, because they took risks, and thanks to their work, effort and example, have helped the entire industry advance".
He added: "Matt can be characterised as a genuine leader in the global cherry industry, permanently innovating, generating opportunities, and opening the door for cherries around the world in the UK and European market. For that, he deserves recognition for his career and performance in the cherry industry."
Held in Chile, The Global Cherry Summit is a meeting point for industry leaders and professionals from different growing countries, and this year was the first time the event in San Francisco de Mostazal has taken place since 2019.
Hancock told FPJ he was "enormously honoured, very surprised and kind of blown away" to receive the accolade, stressing that "none of it would have been possible without the wider Norton Folgate team and all our growers in the UK and around the world".
Commenting on the main challenges facing the international cherry industry at the moment, he said labour shortages and the need for market diversification stood out, particularly in the December and June/July supply windows.
In response, Norton Foldgate has in recent years developed UK cherry exports to Europe, South Africa, and the Middle East, as well as "modest" volumes to Asia.
Hancock explained that the supplier's investment in a Unitec sorting line in Kent, for which it won an FPC Innovation of the Year Award, gave it the ability to produce a box of cherries that could compete on the global stage.
"The export business gives us a valve to sell fruit elsewhere at decent prices without flooding the wholesale market in the UK," he added.