Frozen potato specialist announces tie up with Say It Now to boost its marketing reach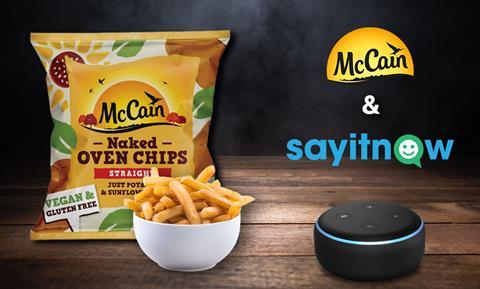 McCain Foods has partnered with voice-assistant adtech firm Say It Now to deepen its branding experience via actionable audio advertising.
The campaign will see the frozen potato specialist use Say It Now's actionable audio advertising – deployed on smart speaker streaming services – to enable listeners who hear the advert to speak directly with the brand.
As part of the experience, listeners who say "Alexa, Open McCain" will have the opportunity to be sent a one-time link with recipe suggestions for cooking McCain Foods in an air fryer, helping those on the go looking for delicious but quick lunches and dinners.
Air fryer popularity
Air fryers are a rapidly growing trend in modern cooking, and McCain's new ad drive is designed to push brand favourability among those keen to prepare food this way.
In 2022, US consumers spent nearly $1 billion buying air fryers, up 51 per cent from 2019, according to The NPD Group. Sales of the appliance have been soaring since 2017, and they received an extra boost during the early days of the pandemic as people cooked more at home.
McCain's desire to move into actionable audio advertising follows research from Neuro-Insight that found that branded smart speaker ads trigger a 25 per cent increase in overall brain activity when compared to branding in standard audio ads, helping to build stronger and more meaningful associations. It also found that engaging in a conversation with an ad via a voice assistant makes branding moments 11 per cent more memorable.
Rise of the smart speaker
Smart home devices will carry out more than £139 billion worth of global transactions in 2025, and with smart speaker ownership on the rise, conversational technology is opening new ways for advertisers to effectively tell stories and create branding moments by making audio advertising 'actionable'.
Actionable audio ads comprise of three elements: a 30-40 second radio ad voiced by a smart speaker, a smart speaker call to action, and frictionless voice interaction enabling consumers to research products, have more information or offers sent to their phone, or conduct a purchase.
Maria Cadbury, global director of strategic partnerships and commercials at Say It Now, said: "McCain Foods joins a growing list of leading brands and global media agencies capitalising on the benefits of actionable audio advertising. This approach will deepen the brand experience that McCain brings to consumers as the interaction fires up their brain and makes them more likely to show positive engagement."
Mark Hodge, marketing director at McCain, added: "McCain has always been a brand leader in innovation, whether that's been in our products, packaging or promotional activity. That's why we're excited to launch our first actionable audio advertising, marking a new milestone in our consumer interactions. Sharing quick and healthy meal inspiration is a great way of showcasing the versatility of our products, and we're excited to see this new technology in action."