Frozen potato supplier teams up with social enterprise to open a new store in its heartland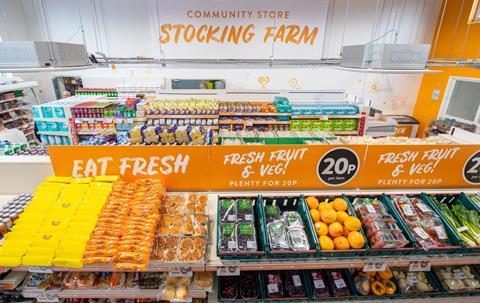 Frozen potato giant McCain Foods is partnering with Community Shop to open a new social supermarket store in Eastfield, North Yorkshire – the home of McCain GB since 1969.
Community Shop is a social enterprise that redistributes surplus food and household products through its network of 11 Community Shops across the country, selling products to local members at deeply discounted prices.
Opening its doors this summer, the new Eastfield store will be the first to open in North Yorkshire and will support around 750 people in the local community.
The store will sell high-quality products which are perfectly good to eat or use that have been donated by major retailers, brands and manufacturers. The products have been deemed 'surplus' and may have otherwise gone to waste.
Re-invested revenue
Revenue raised in the store will be re-invested back into the local area through the store's Community Hub, which will offer personal development programmes tailored to the needs of each member. These programmes range from cookery clubs and home budgeting, to interview skills and business courses.
The store will also house a community kitchen, offering low-cost and wholesome hot meals, with children eating free every day. Community Shop Eastfield will operate on a free membership basis and be open to anyone who lives locally, receives welfare support and is motivated to make a positive change to their lives.
Across Community Shop's existing network, last year alone its stores supported over 28,000 households, with 92 per cent of members saying that their quality of life had improved since joining, and 96 per cent feeling a greater sense of community.
Gary Stott, executive chairman at Community Shop, said: "We're delighted to be partnering with McCain to open a new Community Shop in Eastfield and are really looking forward to connecting and working closely with our new members in the summer.
"With the ongoing cost-of-living crisis, the deeply discounted food that is available in our stores is a lifeline for so many people. This is supported by the life-changing development programmes through our Community Hub, which helps people focus on becoming the best version of themselves."
Jillian Moffatt, regional president GB&I at McCain, added: "We're proud to be partnering with Community Shop to bring a new store to Eastfield – a place where McCain GB has called home for over 50 years. Given the impact of their current stores, we know that Community Shop Eastfield will provide an invaluable service to the local community and we look forward to supporting it for years to come."