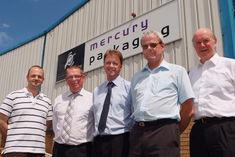 Mercury Packaging is to open a new regional sales office in the North West in response to growing demand for its products in the food, mailing, magazine publishing and retail markets.
Based in Macclesfield, the satellite facility is headed up by Tim Holland who is tasked with significantly boosting sales of Mercury's flexible packaging solutions with particular focus on the food industry including the bakery and fresh produce sectors.
Mercury also has representation in the East, South East, South West, Midlands and North East.
Bolstered by significant recent growth and the acquisition of wicketted bag specialist Certiforms, Mercury hopes this expanding regional sales network is an ndication of its ambition to meet the flexible packaging needs of companies within all its key target markets.
Tony Stanger, managing director of Mercury Packaging, said: "Over the past year we have seen a significant increase in turnover with substantial new customer wins from all over the country. In order to support our continued focus on growth, strategic operations and productivity objectives we're delighted to establish a new sales office in Macclesfield.
"Having regional sales representation at key locations has enabled us to move to the forefront of the UK packaging scene and sends a powerful signal to the entire market, and more importantly to existing and potential customers."