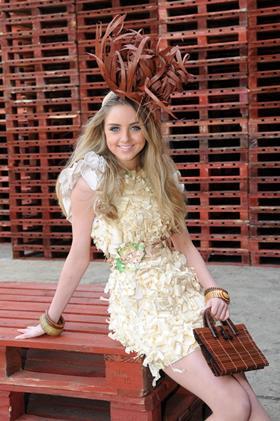 A Miss England finalist has won a best 'eco-dress' competition with a dress made by pallets from produce industry supplier Pooling Partners.
17-year-old Sian Healy wore the dress to raise awareness of cyber bullying through her Miss England platform after becoming a victim of internet trolls.
Dubbed 'Beauty and the Beech', the dress was fashioned from planks of wood, re-purposed from use in the supply chain by former soldiers at the Royal British Legion's Industries (RBLI).
"Sian has had a terrible time and as a business that actively promotes sustainability and growing our own young talent, we wanted to help her and the charity she is raising money for," said Shelley Harris, head of commercial at Pooling Partners.
"The pallet was re-purposed by Freya Brown, an RBLI volunteer, to highlight its versatility and ability to bounce back – very much like victims of bullying should."
Healey was physically assaulted outside a Coventry hotel as part of a coordinated attack organised online – and shut herself away for weeks at a time.
But with her parent's support, she has since used her role as a finalist in Miss England to raise awareness and more than £1,000 for Coventry and Warwickshire MIND, the mental health charity which helps youngsters overcome anxieties.
She said: "I realised that locking myself away was the wrong approach. If you have issues, you should share the problems with your parents or friends. Talking about it and coming off certain social media platforms really helped me to rebuild my life.
"I have always held back from following my dreams and lacked a lot of confidence but I have fought my battles and came out wanting to help children and young people going through the same thing."