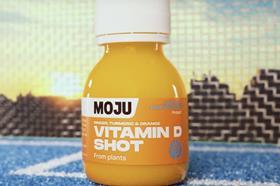 Performance drinks brand Moju has launched a new plant-based vitamin D shot.
The new line features 20µg of vitamin D3, naturally sourced from sustainably grown seaweed, combined with orange and fresh-pressed ginger root and turmeric root.
Moju claims that unlike most vitamin D supplements or refortified foods, the shot is 100 per cent plant-based and more easily absorbed by the body, adding that it would help combat the UK's vitamin D deficiency following reports last winter that one in five UK adults are deficient in the vitamin.
The new vitamin D shot, RRP £1.95, is available at Waitrose, Planet Organic and As Nature Intended, and will launch in Ocado at the end of April. It is also being sold via the Moju website.
Moju co-founder Rich Goldsmith said: "At Moju, we are determined to bring the best and most potent of nature's ingredients to all our consumers, proving that functional products don't have to compromise your health. We place plant-based innovation at the core of each new product, to help address different consumer needs in an impactful way. Vitamin D is essential for immune function and with such a high rate of deficiency across the UK, Moju has created an effective natural solution that can easily fit into people's daily routines.
'We are proud to lead a category which continues to grow at a rapid rate and is set to meet surging demand for plant-based functional products. In just over three years we have used innovation and our strong principles of product quality and brand purpose to serve consumers on the move and at home, with a strong in-store presence as well as an active direct-to-consumer offering."