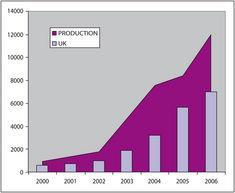 Moroccan grape growers are "very optimistic" about their export prospects in 2006, according to leading exporter Delassus.
Volumes coming out of the North African country are increasing rapidly and projections are that 12,000t will leave Morocco this season, compared with 8,000 t last year.
A lengthy spell of cold weather has, however, delayed the season by one week, with the first protected fruit expected to be in the market during week 23. Bigger volumes will follow in week 24.
The first variety that will enter the market is the Early Sweet, followed by the Sugraone, some of which will be packed under the Superior Seedless marque. Moroccan growers - still relatively new to the grape business - also offer varieties such as the Flame, Perlette and Crimson, as the season progresses.
"The varieties of grape that we are talking about are produced exclusively for the export market," said Fatiha Charrat of Delassus. "We intend to export as much as the quality and the UK specifications allow us to.
"This season [Delassus] will export 500 tonnes in four weeks. The volume will be doubled during the next three years as we've planted new farms," she added.
"We hope that our customers are going to be very satisfied and then increase their orders for next season, as we are going to have more grapes every year."