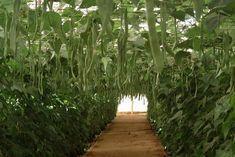 IN TIMES of increased competition product quality is key and on its commitment to a better eating product with a longer shelf life, Morocco-based Guernikako has built its success.
The natural benefits of the Agadir region have proved integral to the production of green beans and Guernikako has researched and developed its own growing system allowing produce to develop distinctive taste characteristics and a longer shelf life ñ all year round.
It is an impressive combination of factors and one that has led to a firm relationship between the Moroccan-based company and Tesco. Last year in response to a promotional surge in Helda bean sales, Guernikako chartered 12 aeroplanes to supply additional produce. In the UK, Tesco recorded a sales increase of 85 per cent.
A policy of innovation, added value and loyalty to its customers is central to Guernikako's belief and it has wasted no time in forging links within the UK. Gerber Fresh Produce's Barry Fine and Bomford's John Roberts have both contributed to Guernikako's development and the next few years should see the company making further inroads in widening its UK customer base.
But it is not just the commitment to its customers that has spurred the company on. Investment in new technology and the continual updating of the farm's facilities have also had their part to play. The company employs a system of integrated crop management, as close to organic methodology as possible. A specially developed hydroponic system results in vigorous plants that yield just one healthy crop. The result is better flavour, enhanced eating characteristics and just as importantly, a longer shelf life.
"We experimented for a long time with different methods of hydroponics," explains commercial director Jose E Hernandez Buj. "I started using similar methods on my Colombian farm with melons and gradually developed it to how it is today. This particular system quickens the growing time of beans by 40 per cent and the beauty of it is that because new plants are used every time, it is always like planting on new land. The new system gives plants a good height and good uniformity but the main advantage is that you don't get the problems associated with using the same soil year after year."
Having tailored its hydroponic methods to suit Moroccan conditions, tiny stones are used for drainage instead of rock wool, with the addition of washed and sterilised sand. "The sand holds the water and then lets it go when the plant needs it and it also allows for the right amount of oxygen for vigorous growth," Hernandez explains. "The cost of preparing the sand is far less than the expense of transporting rock wool from the Netherlands, and this method also allows the company to take advantage of natural local resources."
Production methods are not the only area that has been tailored to meet the company's specific demands ñ the harvesting methods of green beans have also come under scrutiny. "In Europe harvesting is done by hand, but here we use specially-adapted scissors," says Hernandez. "When you harvest by hand it's very easy to damage the top of the bean which can lead to the product deteriorating, or worse, botrytis. When the beans are cut with scissors, however, there is no damage to the product and so shelf-life is maintained."
Harvesting using scissors is not possible for many producers, Hernandez admits, not least because it is more time-consuming than traditional methods. "You couldn't work this way in Spain," he says, "because the labour is just too expensive. But it's a system which works very well here and goes a long way to increasing product quality."
Agadir enjoys many of the natural benefits that shine on the famous production region of Spain's Almeria and Hernandez explains that the climatic conditions are very similar. "The only real difference is that Moroccan produce has a longer shelf-life which is due to the fact that Almeria has very high humidity levels," he says. " I have conducted trials with the beans we supply from Spain and the produce from Morocco and Moroccan beans have a shelf-life that is 35 per cent longer. That is because of the pre-cooling process we employ and because of our scissor-harvesting method. It proves that if you want a good-quality product with a long shelf-life Morocco is the place to grow."
Despite producing in an area of natural abundance, Guernikako has invested heavily in both its packhouse and pre-cooling facilities and there are plans for further expansion. It owns a registered air-conditioned pack house of 2,000 m2 with pre-cooling and cold store facilities that are able to process up to 100 tonnes daily. Another packhouse is under construction and is due to be completed in the next few weeks.
Pre-cooling is seen as vital to the extension of product shelf life and Guernikako is also investing in additional facilities.
The existing pre-cooling plant is located on the farm, ensuring that the required temperatures are reached minutes after harvesting as a way to ensure freshness and a longer shelf life.
Conscious of the need to maintain rigorous international standards, Guernikako has installed the necessary procedures to obtain certification. "In a few days we'll have EurepGAP and we are also working on achieving Nature's Choice," says founder Miguel Campo. "In terms of traceability we are unique. We are just one farm and one grower with one system of farming ñ which makes for better control."
Transport obviously plays a vital role in maintaining produce quality and Guernikako's central location allows it to send produce by refrigerated lorries to UK and Continental markets in just four days. Based on its philosophy of providing a quality service to its customers, Guernikako uses a fleet of refrigerated trucks controlled by satellite tracking, and to maintain rigorous hygiene standards, each lorry is washed and disinfected prior to loading. Two drivers monitor the temperature to guarantee the transportation of produce in optimum conditions and Guernikako's logistics team is always ready to organise transport by air to meet any sudden sales increase due to promotions.
With an on-going programme of investment and implementation of new technology it is easy to see why Guernikako continues to expand. The secret to the company's success, says Hernandez is its commitment to improvement ñ a policy that has shown impressive results.
Since its inception just seven years ago, when Guernikako started with six hectares devoted to Helda beans, the company has blossomed and can now boast cultivation of 180ha. Within this Helda beans provide the biggest yields with 4,320t distributed throughout the year, green Bobby beans and fine beans are also produced (4,000t and 300t respectively). Baby courgettes are a growing line, while Mange Tout has a production of 50t, and sugar snaps reach 75t both with availability from October until June. Other specialised produce such as exotic pepper varieties are also grown.
"At the beginning there was nothing," Hernandez admits. "We had to work the land from scratch but I believe it is essential to have the good will of the workers if you are to make a business successful."
The welfare of its employees is of prime concern to Guernikako and Hernandez firmly believes employees have been central to the company's successful growth ñ investing in training technologists is therefore a priority. Staff who are responsible for growing, harvesting and packing attend regular courses in order to maintain standards of high quality and Campo leads a team of 1,500 trained workers including four qualified agronomists.
Staff are rotated in their roles so they gain a complete and rounded knowledge and in addition, a qualified technician from Spain is also employed to organise and direct the farm's activities.
But it's not just training that Guernikako provides for its staff. In what Hernandez believes to be the only social housing scheme of its kind in Morocco, on-site accommodation has been built for its workers with the addition of gardens and a mosque at the packhouse.
"If we treat people the way they should be treated then they will respond," he says.
But not everything responds this well. As European crops wilted under this summer's blistering heat, Morocco did not escape unscathed. "This year was unusually hot," Hernandez admits. "Temperatures reached 50°C inside the greenhouses and we had to paint the tops of the greenhouses white to reflect the sun. The basis of the paint was lime, so it was not toxic in any way, but Morocco has never known such high temperatures and we did suffer very badly," he says.
"In some places there was next to no damage at all but in other areas damage was as much as 60 per cent ñ I'd say the yield will be halved because the plants were put under so much stress," he concludes.
Despite the constant commitment to improvement, sometimes it is the smaller details that make the difference and at Guernikako nothing is left to chance. The greenhouses are shielded from the outside by shrubs that are planted to protect against the wind and also to attract predators ñ distracting them from the produce inside. Smoking is not allowed on the plant because the company guarantees its produce is 100 per cent nicotine-free.
Refrigerated trailers are planned to transport the produce from the farm to the packhouse to ensure that even temperatures are maintained throughout while electricity ñ only a recent addition to the farm ñ has enabled the installation of machinery. Within the land itself, there is the capacity to develop 18 new hectares although Hernandez is wary of the dangers of expanding too soon. "We don't want to expand too fast," he says. "We don't want to be in a position of having produce that we don't know what to do with."
The company's policy is that there is always room for improvement. "We have to meet the increasing demands from the supermarkets and our customers," he says. "To us it is her majesty the customer. Their philosophy is our philosophy and we believe that if we are loyal to our supermarket customers we can grow together. If we give the customer a better product then the end consumer will enjoy it and buy it again."
Undoubtedly there is little point in having a product of excellent quality if no one knows about it. And with a qualification in international marketing, Hernandez is well aware of the powers of exposure. "Our prices are much better than some suppliers but our produce is of a higher quality." Hernandez says. "I constantly check that no-one has a better quality product, or a cheaper product.
"Firstly you have to produce the right product and then you have to have good marketing. It's impossible to market a bad commodity. But it's always going to be quality, not quantity that matters."