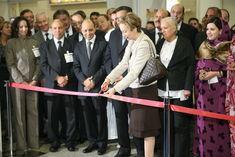 The Moroccan agriculture industry has unveiled plans to double its production by 2020, tripling its export capacity in the process.
Minister for agriculture Aziz Akhannouch outlined the plans at a top-level presentation attended by Her Highness Lalla Joumala Alaoui, the Moroccan ambassador to the UK, at the World Fruit & Vegetable Show in London last week.
The ambitious plans include the country "re-conquering" its position in the citrus sector through 60-80 integrated development projects, as part of 300 plans in total.
The over-arching Green Morocco Plan, which was initiated in November last year, will see €1 billion (£919 million) of investment from the public and private sector combining as an "agro engine against poverty, creating solidarity in agriculture and providing equal and fair distribution".
The plan will eventually see the country increase its production four times over, while multiplying exports by eight.
Akhannouch told the floor: "In order to attract investment, we needed to restructure agriculture, so we have re-organised land, including massive investment in high added-value production such as citrus.
"We have also restructured the chambers of agriculture, creating the National Office for Food Safety. The focus is on localised, incentivised long-term development.
"At the moment, our volume trade with the UK is below what we would like and we need to optimise and exploit the opportunities we have with the UK."
In the last five years, Morocco has increased its exports significantly, with peppers increasing by 92 per cent to 54,000 tonnes, melons rising by 28 per cent to 55,000t and tomatoes hitting 420,000t - a 78 per cent increase.
Kacem Bennani-Smires, general manager of exporter Delassus, added: "We have made a lot of progress in the UK and the UK retailers have shown great faith in working with Morocco."