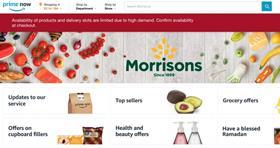 Morrisons and Amazon are expanding their same-day, online grocery delivery service for Prime members to cover most of London and more cities across the UK.
In March the service operated from 17 Morrisons stores in eight cities across the UK including Manchester, Birmingham and Glasgow. However the two sides this week announced that by the end of May, it will have been extended nationwide to over 40 stores, covering the largest cities.
Most of the locations have now gone live and can be accessed by shopping the Morrisons store on Prime Now.
Under the rollout, Prime Now customers in over 90 per cent of Greater London postcodes, as well as those in the other 10 largest cities by population including Edinburgh, Cardiff, and Bristol, will now be able to order their Morrisons groceries on Prime Now and have their goods delivered by Amazon on the same day.
David Potts, Morrisons' chief executive, said: "Expanding this fast home-delivery service to more cities will help us to play our full part in feeding the nation. Through our conveniently located stores and the popular Amazon Prime Now service, more and more customers will be able to access deliveries to their doorstep at this very difficult time."
Doug Gurr, Amazon UK country manager, added: "We are pleased to be able to support more customers through the expansion of Morrisons on Prime Now. The convenient service enables us to offer Morrisons' high-quality grocery selection to even more Prime members."