Jacket potatoes, aubergines and pears are among the lines discounted
Morrisons is reducing the price of a further 820 popular lines, taking the total number of cuts it has made in January to over 1,000.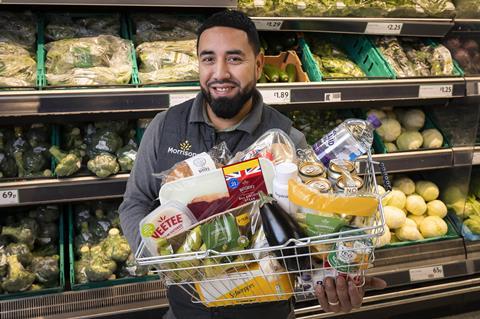 The supermarket said that all price cuts will be locked for a minimum of eight weeks as part of efforts to help customers through the cost-of-living crisis.
Offering an average saving of 20%, the latest move sees prices reduced and locked on fresh produce, cupboard essentials and family meals, with both branded and own-label items included.
Among the products reduced are The Best jacket potatoes, down from £1.49 to £1.29 for 700g; loose aubergines, 10p off at 69p; and a four-pack of Conference pears, 20p off at £1.39.
Earlier this month, Morrisons cut the price of 130 of its lowest-priced Savers products including fresh items, freezer products and household essentials.
Chief executive David Potts said: "Today's cuts demonstrate our continued commitment to doing all we can to help when it comes to the cost of grocery shopping. In addition to the cuts we made to the Savers range at the start of the month and then our fuel promotion, we're now cutting the price on even more popular products to help make a positive difference to the pockets of our customers."