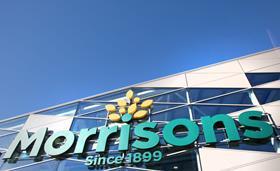 Morrisons has announced it will continue to make immediate payments to its smaller suppliers until the end of January 2021.
The measure, which was introduced in March 2020, is aimed at helping small farmers and food-makers with their cashflow through the ongoing coronavirus pandemic.
The retailer hopes it will also help provide stability to its suppliers now the UK is in a recession.
Morrisons is keen to highlight its support for British farmers as British Food Fortnight (21 Sepember-4 October) draws to an end. It is offering its farmers a five per cent discount on their grocery shopping at Morrisons to thank them for continuing to help feed the nation.
David Potts, chief executive of Morrisons, said: "Suppliers and farmers have told us they face ongoing pressure and we want to be there for them during this challenging period.
"We highly value the continued and consistent efforts of British farmers and small suppliers and want to say thank you and extend support where we can."
Enjoyed this free article from Fresh Produce Journal and its team of editors? Don't miss out on even more in-depth analysis, plus all the latest news from the fresh produce business. Subscribe now to theFresh Produce Journal.