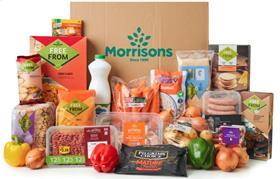 Fresh produce features prominently in a new Gluten Free Food Box launched by Morrisons.
The supermarket chain said the new box, which features a range of essentials and is priced at £35, would help make at-home cooking easier for people that are gluten intolerant and cannot leave their home or are struggling to reach the supermarket.
The box will be delivered direct to customers' doorsteps and is part of a growing selection of food boxes provided by the retailer during the coronavirus pandemic.
Alongside other specifically gluten-free items, the new box includes 1kg packs of carrots and onions, as well as potatoes, peppers and chopped tomatoes. The boxes are sent next-day delivery.
Morrisons free-from buying manager Charlotte Baldwin said: "We have listened to our customers who want gluten-free essentials and cannot leave their home. These boxes will keep many customers stocked up with food at this very difficult time."
It is estimated that one in 10 people in the UK avoid gluten, and Coeliac Awareness Week is coming up from 9-15 May, further highlighting the condition and the alternatives for people looking to cut gluten out of their diets.
The new boxes join a growing range at Morrisons, which now include Vegetarian, Meat Eaters, Fish and Ramadan, among others. Morrisons started producing 10,000 food boxes-a-week at the start of the lockdown and the number is expected to reach 200,000 in the coming weeks, produced across two sites.