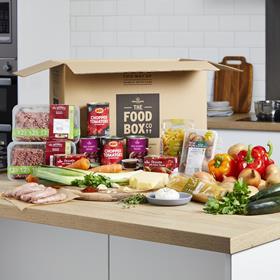 Morrisons has continued to make inroads into the home-delivery box market with the launch of a fresh produce-packed food box aimed at families.
The supermarket's new offer is being sold for £30 including delivery, which Morrisons claims is substantially cheaper than competitors and allows a family of four to make five full meals, working out to £1.50 per person per head.
The box, which is called Five Meals to Feed a Family of Four, features recipe cards and is designed to provide quick, easy and affordable homemade meals that families can cook from scratch at home.
Among other items the box includes 1kg of wonky carrots, 1kg of brown onions, a garlic net, 500g of trimmed leeks, 250g of chestnut mushrooms, 2.5kg of Maris Piper potatoes, a three-pack of mixed peppers, three-pack of courgettes, sieved tomatoes, baby plum tomatoes, chopped tomatoes, flat parsley and fresh thyme.
The launch comes after a study released earlier in July showed an increase in family dinners during lockdown, with shared family mealtimes being cited as positive for mental health and social wellbeing.
Morrisons said that similar boxes on the market cost upwards of £50 for the same number of meals, adding that customers could save up to 78 per cent on the cost of the meals per serving.
Unlike other recipe boxes, the retailer also pointed out that its family recipe box contains full retail-sized packs of ingredients, meaning more product left over for further meals.
Tessa Callaghan, head of food boxes at Morrisons, said: 'Many of our customers enjoy eating meals as a family and we have seen customers do this more during the pandemic. It can be difficult to constantly cook up new dishes that please everyone. So, we wanted to create a great-value box that contained high-quality produce and recipe cards, to make it easier to try new things."
Morrisons now has 15 different boxes on its roster, including a Vegetarian Food Box, Gluten Free Food Box, BBQ Food Box, Market Kitchen Takeaway Favourites Box and British Farmers Food Box.