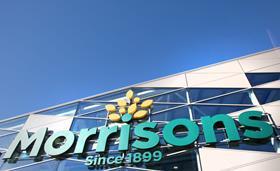 Morrisons says it will be the first supermarket chain to be completely supplied by net zero carbon British farms - setting a target of 2030.
The UK's fourth largest supermarket chain by market share said it was to work with its 3,000 UK farmers and growers to create a net zero model.
The move will mean its 20 fruit, veg and meat manufacturing sites, which account for more than half of the fresh food sold in Morrisons stores - supplied from net zero carbon British sources by the end of the decade.
Morrisons said its team would look at the lifecycle of farm produce, from birth and germination through to store delivery, to examine best practice in cutting emissions, with the findings being shared across its network of farms.
'The farm models will look at reducing carbon via: rearing different animal breeds; using low food-mile feedstuffs; using renewable energy and low emission housing; and, cutting down fuel and fertiliser use.
'They will also look to offset carbon emissions via: planting grassland and clover; restoring peatland, improving soil health; planting trees; and, seeding hedgerows,' the company said.
It will also work with Harper Adams University to set up the world's first School of Sustainable Farming to offer farming training.
Morrisons' commitment will allow the retailer to produce affordable net zero carbon food five years ahead of its main rivals, and ten years ahead of the NFU's 2040 net zero goal for the entire agriculture sector.
Morrisons said it was 'uniquely placed to reach this goal' due to its status as 'British farming's biggest supermarket customer'.