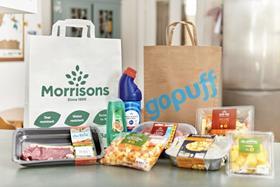 'Immediate delivery' platform Gopuff has announced a strategic partnership with Morrisons to bring thousands of grocery products to consumers.
The multi-year partnership brings Morrisons' fresh food, own-brand and branded product portfolio to Gopuff's platform, offering a fast and reliable delivery service. From 25 March, customers across the UK can order thousands of Morrisons food and grocery items for delivery in as little as 15-20 minutes.
David Potts, chief executive at Morrisons, said: "Gopuff is an acknowledged leader and innovator in rapid delivery and this partnership will enable us to deliver a very strong range of Morrisons fresh food and customer favourites to front doors across the UK in a matter of minutes."
The two sides said that because of their owned models, Gopuff and Morrisons have the ability 'to customise and adapt to evolving customer needs quickly and strategically'. Gopuff has control of the end-to-end delivery supply chain and Morrisons controls the manufacturing, wholesaling and retailing. Together, the two companies said they are able to 'deliver a tailored, localised offering to customers across the country while continuously evolving to meet the latest consumer trends and needs'.
The partnership follows a period of sustained growth for the instant commerce outfit across Europe, where it officially launched in the UK last November - its first international market outside of the US - and France earlier this month. In the UK, Gopuff has already accumulated a 40 per cent category share since launch, according to YipitData.
Gopuff currently serves customers in more than 20 cities in the UK.
Yakir Gola, co-founder and co-CEO at Gopuff, added: "Morrisons' product offering, sustained focus on supporting local producers and suppliers, as well as their relentless commitment to the customer, made this an ideal partnership for Gopuff. As we continue to expand Gopuff's presence and product offering across the UK, we're proud to partner with one of the largest and most beloved brands in the market. Morrisons can now meet their loyal customers where they are, and we look forward to bringing local Gopuff customers access to more of the products they love."