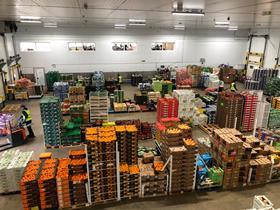 Nationwide Produce has made it into this year'sSunday Times HSBC International Track 200following rapid global sales growth.
Ranking in 192ndplace, it is the third time in the list's 12-year history that Nationwide Produce has been included.
The annual table is compiled by Fast Track and will be published in the Sunday Times Business section this weekend (21 February). It ranks Britain's mid-market private companies with the fastest-growing international sales, measured over their latest two years of available accounts.
International sales at the supplier have mushroomed from£23 million for the financial year to May 2018 to £32.6m two years later – a 42 per cent increase.
This has been driven by the expansion of Nationwide's European network. The Group, which supplies a wide range of vegetables, fruit and exotics, now has two businesses in the Netherlands, one in Spain, one in Belfast and a new one in Dublin.
In the UK the company has two large depots in Evesham, a packhouse in Lincolnshire and trading offices in Lancashire, Lincolnshire, Kent and Evesham.
Ireland has become Nationwide's biggest export market from the UK and in the last financial year the business supplied 55 customers throughout Ireland, many of them on a daily basis.
"When we were preparing for Brexit, we soon realised that having our own trading company registered in Ireland could be advantageous," said group managing director Tim O'Malley. "It would help reduce both time and cost on import documentation.
"It was a long and tedious process to set up a company in Dublin as the Irish government won't simply accept a post box address – they insist on a physical office, staff and proof you already carry out a sufficient level of business over there – but we got there in the end and Nationwide ProduceIreland is now up and running in Dublin."
As a business, around a third of Nationwide's sales are to the foodservice sector, so the company has suffered from the impact of the pandemic, however O' Malley said they have adapted and fared better than expected. Turnover is down by around 14 per cent compared to the same period last year, before the first lockdown.
"The light at the end of the tunnel is shining brighter than ever," he said, "and we now look forward to the long-awaited opening up of the hospitality industry."
The publication of the International Track 200 table is followed bya virtual invitation-only awards ceremony on 28 April.