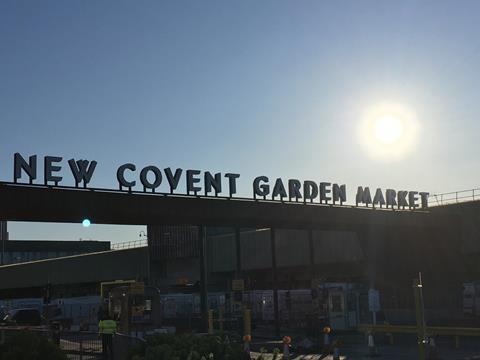 Chairman of New Covent Garden Market Tenants' Association, Gary Marshall, says the market "will get through this" as businesses adapt to the shutdown of restaurant and catering sectors.
Marshall praised the "remarkable" efforts of fruit and vegetable traders at the historic London site, in finding new outlets for their fresh produce.
With the closure of restaurants, hospitality, and leisure venues to combat the spread of coronavirus, early signs looked ominous for the market as business quickly dropped as a result.
"New Covent Garden feeds London. For our hospitalityand restaurant business, it's been decimated. At the beginning of last week there was a real terror in the air, but what we have seen since then is quite remarkable," said Gary Marshall, NCGMTA chair, and owner of Bevington Salads.
"Showing the ingenuity and entrepreneurialism of this market,some companies have reinvented their businesses to supply the public with fruit, vegetable and salad boxes."
Bob Padley, of P&I Fruits, said his company had switched to offering collection points for boxes around the capital last week, with retail trade also increasing since the introduction of social distancing measures.
Nature's Choice, Oliver Kay and WestCountry Group are other businesses who have also started offering delivery boxes to households.
"Trade for catering has been very slow," Padley said, "the caterers are still coming, but they are buying less."Despite retail supply picking up, Padley said he hasn't had any new customers come in yet.
Both Marshall and Padley said supply of produce was still good, but prices were being driven up by increased demand. Prices on broccoli and citrus from Spain were high, while potatoes and carrots also saw price spikes.
Transportation has caused some issues for buyers, as drivers across Europe fear getting stuck abroad, with movement limit rules changing all the time.
"The message must be shouted from the rooftops that fresh produce transport will have a green light wherever they go and that they will get through," said Marshall.
"New Covent Garden Market is open for business. It's a strong market and with people working collectively as we do, we will get through this," he added.