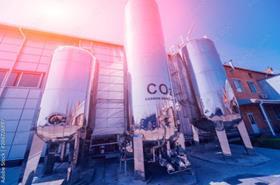 The carbon dioxide (CO2) industry has come to an agreement to ensure UK businesses have access to a sustainable supply of CO2.
The deal, which has been welcomed by the food and drink industry, will enable CF Fertilisers' Billingham plant to continue to operate while global gas prices remain high. It means key sectors, including food processing and nuclear power, are ensured supplies of CO2.
In September 2021, the government provided limited financial support for CF Fertilisers' operating costs for three weeks. Industry then came to an agreement in October without taxpayer support to ensure CF Fertilisers on Teesside could continue to operate for three months.
In the longer term, the government said it 'would like to see the market take measures to improve resilience, and we are engaging on ways this could happen.'
Kate Halliwell, chief scientific officer at the Food & Drink Federation, said: 'UK food and drink manufacturers welcome the deal that will ensure continuity of CO2 supply, keeping our shops, pubs and restaurants stocked with our favourite food and drink.
'We will continue to work with the UK government to boost our efforts to build resilience into the production of CO2 and protect our food and drink supply chain.'