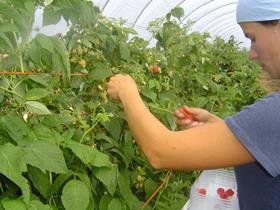 The creator of a new dating-style app aimed at UK residents has said he has full confidence it can help producers find enough seasonal workers in 2021.
The app called SeasonalJobs.io, which will be promoted to potential applicants via targeted social media advertising, matches prospective pickers and other farm workers with producers across the UK.
Funded by Innovate UK, it is the first system of its kind in the UK's fruit and vegetable industry to digitally match applicants to seasonal labour roles, without the need for a recruitment agency. The price to growers per position filled is significantly lower than through an agency, according to the app's creator and founder of Cropdesk Technologies David Trehane.
He has developed and commercialised the app alongside Cropdesk's interim CEO Jacqui Green, the former chief executive of Berry Gardens, and interim COO James Waltham, Haygrove's ex-MD.
Finding the right workers
The Seasonal Jobs app, which launched at the start of February, places an emphasis on making applicants fully aware of the difficult reality of the positions they are applying for. Information is listed on the 'downsides' of each job as well as some demo videos, reference to the fitness level and physical work.
The aim is to only attract applications from people who are physically and mentally prepared for the work, avoiding some of the shortcomings of the 2020 Pick for Britain campaign.
Last year, UK fruit and vegetable growers received tens of thousands of applications from UK residents but only a few hundred ultimately took up or completed the placements, with many British pickers leaving after just a few days.
Confidence in success
Trehane believes that even with strict screening of applicants in place, the app will be successful in attracting enough British workers to help make up growers' shortfall in seasonal labour.
"There are so many people, especially when furlough ends, who are going to be long term out of work as a result of Covid-19," he said.
"It's not like the government's going to open things up again and everyone's going to surge straight back to work – it will take several years for industries such as hospitality to build back up to employing the same number of people they did before the pandemic."
The British fresh produce industry has consistently struggled to attract capable domestic pickers, but Trehane believes the impending unemployment crisis is so severe that there will be enough British and UK-resident applicants that are up to the task this year.
"We believe there is brilliant pool of quality workers sitting at home at the moment, with a track record of working hard pre-Covid, who are currently without a job and unable to work," he said.
Initial interest
Cropdesk is in discussions with government about supporting its Kickstart scheme for getting 16-24-year-olds into employment, and it wants the Seasonal Jobs app to be at the forefront of this year's Pick for Britain campaign.
Green stressed that physically fit young British and UK-resident workers, who have been disproportionally affected by unemployment as a result of pandemic, could prove a key source of seasonal labour this year.
She added that there had been "an incredible amount of initial interest" in the app from the fresh produce industry, namely the soft fruit, vegetable, topfruit and ornamental sectors. The AHDB, NFU and Kent Chamber of Commerce were some of the first to see the app and give feedback on its suitability.
So far, one British producer has started using it for pre-season workers. The app is also being trialled in Australia.
How the app works
The app works as follows:
- A grower posts a job advert on the app, sparking an automated social media campaign to targeted users.
- People see the job advert, download the app, create a worker profile, and apply for the position. Their profiles and job applications include information such as where they want to work, when they are available, their fitness level and relevant work experience.
- The job adverts contain key information on the upsides, downsides, fitness requirements, common payment methods and transport links. Transport is an important consideration given how remote farms can be.
- The employer can view a list of matches for their vacancies on the app, and can then quickly and easily set up a video interview with the candidates through the app.
- Applicants who have not matched the job's requirements are never shown to the employer and there are no cold calls between prospects and employers.
Saving growers time
"Last year, many growers complained they didn't have enough time to sift through and respond to all the applications they received," Trehane explained. "But the Seasonal Jobs app has a quick and easy-to-use interface, automated sifting which cuts out all the emails and phone calls, and saves farmers precious time."
Trehane stressed that the new app is not a panacea for making up the seasonal workers shortfall, but "will help considerably", complimenting traditional recruitment methods.
If successful in the fresh produce arena, the software could be rolled out to other sectors such as food manufacturing, hospitality and care.
Producers interested in using the app can get in touch with the Seasonal Jobs team via theirwebsite.