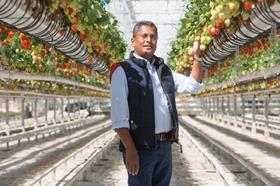 Botanicoir has launched a new coir substrate that it claims will be a 'game changer' for the soft-fruit industry.
Precision Plus Ultra is described as capable of rapid hydration, with optimum air-filled porosity, a superior structure, and excellent drainage capacity and ease of steering.
'We've created a new special mix tailored to berry crops, that nobody has made before – an industry first," said managing director Kalum Balasuriya during the unveiling at Fruit Focus.
"We have developed a unique production method that combines three different types of particles, which gives the mix a more open structure and better aeration, which makes it perfect for use in soft-fruit crops."
At the launch the product received warm reviews from Paul Bennett, technical head for the Agrovista UK fruit team, and Ashley Wensak, irrigation and bush crops manager at the New Forest Fruit Company, which is based in Hampshire and produces 3,000 tonnes of strawberries annually. All of its crop is grown in Precision Plus Ultra.
The company initially trialled one hectare of the growbags on the crops in the field, glasshouses and in polytunnels, before switching over the full operation, and Wensak said that had led to a five per cent yield increase this year so far.
"The new grow bags have better drainage, higher air-filled porosity due to the 'Ultra' particles in the substrate and are consistent, which encourages uniform rooting and produces healthier plants,' he said.