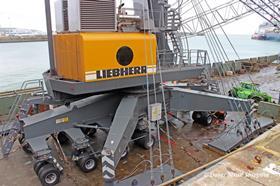 Two new Liebherr Harbour cranes have arrived in the Port of Dover's multi-purpose cargo terminal as the port looks to expand the range of consignments it can handle.
The larger of the two is an LHM 550 Mobile Harbour crane, capable of lifting 104 tonnes, with a maximum outreach of 54 metres.
The second unit, an LHM 280 mobile Harbour crane, can lift 84t with an outreach of 40m. Between them the cranes can handle palletised fruit, steel, breakbulk, containers and more.
Their hydrostatic drive concept and closed hydraulic circuits guarantee immediate release reaction times for rapid and safe working.
Karen Hayes, commercial and divisional manager at Port of Dover Cargo, said:"We are delighted that the exceptional facilities available in our brand-new terminal provide customers with another reason to choose Dover as the best place to handle their cargo.
"Since our new terminal in the Western Docks opened just over a year and a half ago, our business has flourished. We have continued to adapt to the latest technologies and techniques, enabling the team to process every range of cargo in the industry and expand our customer base even further."
In March of 2021, Soreidom & Caribbean Linebecome the Port's first scheduled breakbulk customer. This followed on from the terminal becoming fully temperature-controlled at the end of 2020 and the port processing bulk aggregate for the first time with Aggregate Industries in May 2020.
Port of Dover Cargo has HACCP certification, the 360 Quality Code and organic accreditation from the Organic Food Federation, and full AEO (Authorised Economic Operator) status in customs and security.