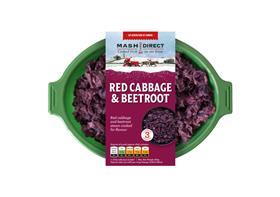 Mash Direct has secured its first nationwidelisting with Sainsbury's to stock three SKUs ahead of the Christmas season.
The range, which is designed to make cooking and preparing vegetable sides hassle free and easy for consumers, will also have two SKUs listed in Morrisons.
Sainsbury's will launch the Mash Direct Broccoli with Cheese Sauce, Cauliflower Cheese and Red Cabbage & Beetroot lines into 590 stores nationwide. Morrisons, meanwhile, will list two additional lines - Honey Glazed Parsnips and Red Cabbage and Beetroot - alongside Mash Direct's current listings of 10 products.
The two national listings for the Mash Direct brand highlight the growth of consumer demand for high-quality and versatile convenience meals that can be incorporated at the family table, the company said. The category has seen strong demand in recent months and is now worth £3.9 billion.
Mash Direct said it expects to see its brand sales growth exceed 10 per cent.
Lance Hamilton, sales director at Mash Direct, commented: "We are delighted to secure a listing with Sainsbury's and Morrisons and offer the taste of our farm-fresh produce to even more homes across the UK. Our field-to-fork award-winning vegetable side dishes are growing in popularity with consumers demanding healthy, convenient ready-to-eat vegetable accompaniments at the family table."