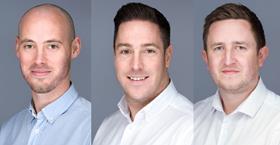 Food recruitment firm MorePeople has strengthened its team with three new additions as it looks to expand its service in 2021.
The Stamford-based recruiter specialises in permanent and interim recruitment for businesses in the food supply chain.
Established in 2000, it recruits for supermarkets, food manufacturers, growers and agri-businesses, with appointments ranging from graduates to board directors andnon-executives.
Richard Hanwell has joined MorePeople as business director, a new role that will focus on "continuous development of client relationships, pursuing new opportunities and helping the team to reach their potential".
He began his recruitment career in the fresh produce and food sectors in 2005 and has since held managerial recruitment roles in the UK and internationally, both in and out of the food industry.
Aidan Finn will support MorePeople's Morten Andresen and Tom Edmondson-Matthews in the commercial recruitment team, working on sales and procurement roles.
Finn began his career with Morrisons, learning about all aspects of the supermarket supply chain. He then moved into business development for both the off-trade and on-trade industry in beers, wines and spirits.
Finally, Tom Merriman has taken over the reins in the company's financial team. He worked in sales before moving into recruitment where his remit was temporary financial roles.
At MorePeople, his focus is on permanent recruitment for finance positions at all levels across the food and agriculture supply chains.
Commenting on the appointments, MorePeople's managing director Andrew Fitzmaurice said: "Aidan is already flying along the on-boarding journey and he will be able to put all his experience in FMCG to use. He is quickly picking up great recruitment habits.
"Tom brings a wealth of recruitment (in particular finance recruitment) experience to the team, and he's off to a great start in an area where we have a track record in placing senior finance candidates and where there is so much more opportunity for us to do so.
"Having led teams and worked extensively in food recruitment, Richard brings a wealth of talent, credibility and expertise to the MorePeople team."