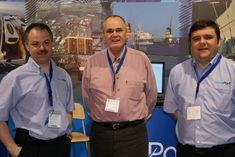 Immport, a new fresh produce gateway based at Immingham, which promises a more efficient, low-cost, environment-friendly solution for suppliers, retailers and distributors, was launched at Fruit Logistica.
The Immport concept has been under development by Russell Davis and Alan Forrester in partnership with PD Ports, Fowler Welch Coolchain, Ferryways, and Associated British Ports, for the last two years.
The idea centres on a new fresh produce gateway based quayside at the port of Immingham, which aims to offer a less-congested route to market, quicker discharges, and ultimately, fresher produce, than the traditional fresh produce ports.
It includes a quayside receiving and storage facility, to be completed later this year, and the development of cutting-edge, added-value facility based off quay, due for completion next year. The total project will cost in excess of £20m.
Immport came about initially to tackle the issues faced by the fresh produce industry in the congested south east of the country, but has since developed into an opportunity to make a significant impact on environmental issues, according to the partnership.
Immingham, the UK's largest cargo handling port, offers handling services not only to the traditional reefer and container vessels but also offers excellent links to mainland Europe and beyond.
"It's about taking traffic away from the busy south-east entry points and arterial routes without increasing European road miles and moving the traffic north to Immingham," said Davis. "Our one-stop-solution for fresh produce at Immingham then offers significant in-country logistics savings in road miles and travelling times particularly to the Northern distribution points and consumer outlets.
"Due to its location and excellent motorway network, all of the major importers and retailers have an opportunity, through working with us at Immingham, to take further steps in addressing the environmental issues faced by the world today - particularly foodmiles. Every major UK market can be reached within a single driver trip."