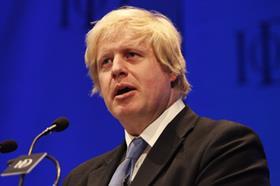 The NFU has congratulated Boris Johnson on his election as Conservative party leader and urged him to do everything possible to ensure the UK's departure from the EU is carried out in a 'smooth and orderly' way.
The farmers' union said that an orderly departure that includes free and frictionless trade with the EU is crucial in delivering the best outcome for British food production.
Leaving the EU with a trade deal is vital to allow farm businesses and Britain's food producers to have a viable and sustainable future, said NFU president Minette Batters. In her letter to the new Prime Minister, she highlighted five further policy areas, namely: stimulatingfarm business competitiveness and innovation; risingto the challenges of tackling climate change; promoting the UK's high food standards through trade policy; ensuring an adequate supply of labour; and along-term budgetary commitment for food and farming.
Batters said: "To achieve the best outcome from Brexit, we need to leave the EU in a smooth and orderly way. A deal with the EU is crucial to maintaining free trade with our closest neighbours and largest trading partners, as well as access to people that want to come to the UK to work on farms.
"Mr Johnson has an opportunity to develop a new agricultural policy that works for Britain by creating a sustainable, vibrant and competitive future for our farming sector.
"We need to see policies that allow farm businesses to innovate, that help farmers rise to the challenge of tackling climate change, that enable farms access to the workers that pick, pack and grade our fruit, veg and flowers, and crucially an Agriculture Bill that is fit for purpose for the rising challenges of food production.
"I look forward to working with the incoming Prime Minister and his government to ensure we can achieve this and that British farming is recognised as strategically important for the nation.
"I would also like to thank Theresa May for her efforts as Prime Minister and her willingness to engage with the food and farming sector at such a crucial time."