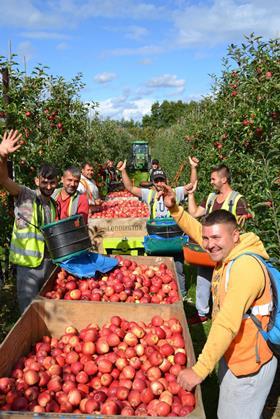 The Home Secretary has backed down on the government's short-lived pledge to end freedom of movement immediately if the UK leaves the EU with no deal.
Instead Priti Patel rowed back to the government's previous policy of giving EU migrants three years' temporary leave to remain.
This followed warnings from lawyers and policy experts that a sudden end to free movement on 31 October would be impossible to implement in such a short timeframe and would be open to legal challenge.
Speaking 4 September, Patel said she would revert to the Home Office's previous plan to grant allEU nationals entering the UK between 31 October 2019 and the end of 2020 a three-year temporary leave to remain.
Once this period ends, EU citizens who arrived in the UK under the scheme would have to apply for visas to work or study in the UK.
Responding to the department's clarification, NFU president Minette Batters said: "Farmers and growers across the country will be relieved to have much-needed certainty on how they will recruit workers from the EU after 31 October, as the Home Office clarifies its post-Brexit immigration policy.
"I heard from alarmed farm businesses across the country who feared ending freedom of movement immediately after Brexit would cut off a critical supply of people coming to work in essential roles across British food and farming, causing untold impacts on farm and the supply chain.
"The NFU raised these concerns at two meetings with the home secretary in recent weeks, and it is welcome news that we have been heard and businesses now have much-needed clarity."
She stressed, however, that questions still remain about the UK's future immigration policy and that it is essential this is "fit for purpose and based on business need, reflecting the importance of both permanent and seasonal workers to the industry".
"Fruit, veg and flower growers are still seeing a tightening of the seasonal labour supply and we are continuing to ask government to expand the number of permits in its seasonal workers pilot scheme, in preparation for a transition to a fully functioning scheme in 2021," she said.
"It is vital the government recognises the importance of overseas workers coming to work in the UK, helping to deliver the safe, traceable and affordable food to the nation."