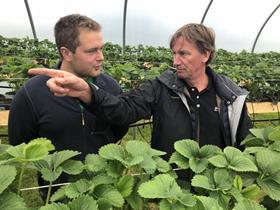 Norway could become a much bigger market for the UK's fresh fruit and vegetable growers in future.
That's the view of Pål Westby, who is in charge of fresh produce purchasing at NorgesGruppen, the Norwegian food retailer that commands almost 40 per cent of the Norwegian grocery market.
"British growers have a reputation for excellent quality and they're set up for dealing with major supermarket groups like ours," Westby told FPJ on a visit to the country last week. "We're doing a lot of work to grow fresh fruit and vegetable sales here in Norway," he says. "Our market has grown hugely in the last 20 years thanks to the much bigger place that fresh produce now occupies in our stores. It's no surprise that Norwegians are now among Europe's largest consumers of a range of berries and other key lines such as potatoes, root vegetables and salads."
Trade in fresh produce between the UK and Norway is very small, but there is still some history there: many years ago Scottish growers sold local turnips to Norway, some locally-grown fresh vegetables were exported from here in the 1990s, and Norwegian cherries even found a place on the shelves at Marks & Spencer for a while in the late summer.
But things have petered out since then, even if Norway's historical and cultural links to the UK remain strong. Many Norwegians are avid watchers of the English Premier League – Westby is a dyed-in-the-wool Leeds fan who started watching them as a boy during the team's glory days in the early 1970s – and the ties between our two royal families are strong, indeed Norwegian monarch King Harald V encouraged even stronger bilateral ties after Brexit during a visit to Oslo by the Duke and Duchess of Cambridge last January.
And, of course, rarely a day goes by in the ongoing debate about Brexit that we do not hear about "The Norwegian Option", a formula by which the Nordic country remains independent of but closely linked to the European Union.
NorgesGruppen operates more than 1,800 outlets across Norway in every format, from the high-end Meny chain, to smaller local stores like Joker, Mix convenience stores, SPAR supermarkets, and the fiercely price-competitive soft discounter KIWI. Significantly, Aldi and Lidl are both absent from Norway; Lidl tried and failed to make headway there and pulled out in 2008 after just four years.
The group, which posted combined operating revenues of NKr85 billion (£7.8bn) in 2017, is targeting 20 plus per cent growth in its fresh produce sales through to 2020 as part of a government-backed drive to improve the health of Norwegians. "More fruit, less sugar," urges group chief executive Runar Hollevik in the group's 2017 annual report.
"If we can make it fit in with our current sourcing plans then we would be very interested to talk to UK growers," says Westby. "I think there are opportunities for larger imports from the UK.
"One of the reasons there haven't been such imports is that the seasons are a little too close to each other, but there are opportunities here we must look at."